Pakistan Red Crescent Society
PRCS National Headquarters, H-8, Islamabad
Ph: +92-51-9250404-5
Fax: +92-51-9250408
E-mail: hilal@isb.comsats.net.pk
Contact Info: http://www.ifrc.org/address/pk.asp
Web: www.prcs.org.pk
FOR Donations in Pakistani Rupees:
Deposit your Donation in Pak Rupee through Bank Draft, Cross Cheque, Pay Order and Bank Transfer in favor of "Pakistan Red Crescent Society National Headquarters Islamabad"
in any branch of Askari Bank through out Pakistan in under mentioned Account Number"
ASDA 6-6 Askari bank G-8 Markaz, Islamabad
FOR Donations in Foreign Currency
Deposit/Send your Donation in Foreign Currency in favor of
"Pakistan Red Crescent Society National Headquarters Islamabad"
Account No. 0083-02800002
Being maintained in
Bank Al-Falah Ltd, Jinnah Road Rawalpindi

"Routing Details For Foreign Transactions"

CITI BANK N.Y.111,8TH AVENUE 2ND FLOOR NEW YORK ABA NO. 021000089 SWIFT CODE: CITIUS33, ACCOUNT NO. 36087144 OF BANK ALFALAH KARACHI SWIFT CODE ALFHPKKARWP FOR ONWORD CREDIT TO BANK ALFALAH LTD, JINNAH ROAD RAWALPINDI FOR FINAL CREDIT TO ACCOUNT NO. 0083-02800002 IN THE NAME OF PAKISTAN RED CRESCENT SOCIETY NHQ ISLAMABAD.



IN KIND DONATIONS:

PAKISTAN RED CRESCENT SOCIETY, H-8, ISLAMABAD
TEL: +92519250404-5 FAX: 92519250413
www.prcs.org.pk
Text Message Donation: 4611 - Pakistan Red Crescent Society: Donate 10 rupees to PRCS by sending SMS to 4611 with text Flood
For Further Details on Donating to Pakistan Red Crescent Society:
Please Contact: Mr. Amjad Pervaiz +92-300-8545108
Mr. Haseeb Ul Hassan +92-345-555947
---
International Federation of Red Cross and Red Crescent Societies

International Red Crescent Society website: www.ifrc.org
Emergency Pakistan appeal with all details:
http://www.ifrc.org/docs/appeals/10/MDRPK006PEA.pdf
RED CROSS PAKISTAN REPORT: http://www.allvoices.com/contributed-news/6476972-red-cross-pakistan-report
from CNN's Pakistan Flood Relief Page:
International Federation of Red Cross and Red Crescent Societies are performing rapid needs assessments in affected areas and distributing food coupons and other relief items including tents, hygiene kits, tarpaulin sheets and kerosene stoves. They have also set up a medical camp in Sultan to offer immediate medical aid to affected families. You can help now by making an online donation.
International Committee of the Red Cross continues to distribute relief supplies to over 7,000 flood victims in Balochistan. The ICRC and its partners are finalizing medical contingency plans for flood-affected areas, and for repairing critical water infrastructure. You contribute by making a donation in numerous currencies online.
---
http://www.edhifoundation.com/
FOR FLOOD RELIEF DONATIONS:
EDHI WELFARE TRUST:
Askari Bank (Ltd) Jorya Bazaar Branch, Karachi
Account No: 4-011650011
or Account No: 011650011-4
EDHI HEAD OFFICE
Sarafa Bazar, Boulton Market, Mithadar, Karachi.
Ph: +92 (21) 2413232
Fax: +92 (21) 2413232

ZONAL OFFICE LAHORE
17-A Muslim Block, Allama Iqbal Town, Lahore.
Ph: +92 (42) 5414211


ZONAL OFFICE ISLAMABAD
Near Masjide-e-Shohada, Aabpara, Islamabad.
(Opposite Aabpara Market - the office is downstairs in the mosque building)
Ph: +92 (51) 2827844
USA Edhi International Foundation
42-07 National street
Corona, New York, 11368 USA
Tel: (718) 639-5120
Fax:(718) 335-1978
Toll Free# 1-888-899-EDHI (3344)
UK Edhi International Foundation
316 Edgware Road,
London W2 1DY,
United Kingdom
Tel: 02077232050 and Fax: 02072249774
Canada
Bilquis Edhi Charitable Shop
1801-1805 Danforth Ave
Toronto-M4C-1J2 Canada
Phone/Fax: +1 (416) 699-1388
---
http://www.imrankhanfoundation.org/
Donations can be sent to:
ACCOUNT TITLE: "Imran Khan Flood Relief Fund"
Any Habib Bank branch in Pakistan
HBL ACCOUNT NUMBER: 0602-79007997-03
HBL Swift Code: HABBPKKA
or
IN ANY BRANCH OF MUSLIM COMMERCIAL BANK:
ACCOUNT NUMBER: 0005196131002771
MCB SWIFT CODE: MUCBPKKA
On Line Donation
There is a paypal link for online donations on
www.imrankhanfoundation.org

Donation Through Cheque
All the cheques in name of " Imran Khan Flood Relief Fund" can be deposited in any branch of TCS or call at our toll free # 0800-00048 to get your cheque collected from your door step.

IMRAN KHAN FLOOD RELIEF FUND INTERNATIONAL ADDRESSES:
In the UK, CALL: 0800-014-8682
In the USA, CALL: 001-877-721-9115
In the UAE, CALL: 0092-21-35699001
Direct deposit in our USA account:
---
TCF Relief Movement
TCF needs your donations to raise money for 20 million meals for our flood affected brethren. Each ration pack being prepared is worth Rs. 2500. It includes procurement and transportation expenses. Each pack would contain dry ration like atta, rice, daal, sugar and also immediate consumables like dates and milk powder. This food package would approximately be sufficient for 5-6 family members for a period of an entire month! Any amount of donation is welcome.
Contact numbers for this are:
a) 0312-8233823
b) 0312-8234823
c) 0312-8239823
d) 0312-8236823
e) 0312-8237823
(Cell Numbers in Pakistan)
For International Calls (+92+drop the initial 0)
Initial Target Areas
TCF Flood Relief Efforts will be carried out across all those areas hit by this catastrophe. Initial target areas include
Mansehra, Nowshera, Mianwali, Khushab/Shahpur, Muzzafargarh, Dera Murad Jamali and Sukkur
YOU CAN HELP!
Donations can be sent in a number of ways:
Cash, Cross Cheques or bank drafts, titled "TCF Relief Fund" to be dropped/posted:
The Citizens Foundation, 7th Floor, NIC Building, Abbasi Shaheed Road, Karachi - 75530
or
| | | | | | |
| --- | --- | --- | --- | --- | --- |
| Bank | Branch | Currency | Title of Account | Account Number | Swift Code |
| Askari Bank Ltd. | Clifton, Karachi | PKR | TCF Relief Fund | 150116507530 | ASCMPKKA |
| Meezan Bank Ltd. | FTC, Karachi | PKR | TCF Relief Fund | 010303600000730 | MEZNPKKA |
| NIB Bank Ltd. | Clifton, Karachi | PKR | TCF Relief Fund | 0004-0208388-0037 | NIBPPKKA |
Online donations are also a viable option. All Visa and MasterCard Credit cards are accepted for donations via
TCF Website: www.thecitizensfoundation.org
Canada Residents can log onto: www.tcfcanada.org
USA Residents can log onto: www.tcfusa.org
UK Residents can log onto: www.ftcf.org.uk
---
The Shahina Aftab Foundation (SAF) is an international organization focusing on the development and welfare of women. During the current flood crisis, the organization has been able to get aid to those most in need, in the most direct way possible. The organization also places a special emphasis on helping women, children and the disabled in the flood affected areas. The SAF facebook site provides detailed updates on each relief trip that they make.
http://www.facebook.com/pages/Shahina-Aftab-Foundation
---
Video Footage plus form for online donations worldwide: https://www.wfp.org/donate/pakistanflood
from CNN's Pakistan Flood Relief Page:
World Food Programme is making food distributions to 35,000 families affected by the flooding in Northwestern Pakistan. WFP Pakistan plans to assist up to 150,000 families over the next few months as access to the affected areas improves. You can help by making an online donation in either euros, dollars, pounds or yens.
---
Extensive information and video footage as well as appeal for donations:
http://www.islamic-relief.com/Emergencies-And-Appeals/1-67-pakistan-flood-emergency-appeal.aspx
---
Pakistan Flood Appeal:
http://www.unicef.org/infobycountry/pakistan_55538.html
from CNN's Pakistan Flood Relief Page:
UNICEF's Pakistan office is providing assistance for water and sanitation, health, and nutrition. They are distributing clean water and water purification tablets to prevent water-borne diseases and will continue to asses the situation to determine if further fundraising appeal is needed. If you are interested in becoming a UNICEF volunteer click here or support flood-relief efforts by making an online donation.
---
VOLUNTEERS NEEDED - KARACHI RELIEF TRUST
http://beenasarwar.wordpress.com/2010/08/26/volunteers-needed-karachi-relief-trust/
Posted on August 26, 2010 by beenasarwar
CALL OUT TO ALL CITIZENS – WANTED: Volunteers to help with food distribution, camp management, data collection.
The Karachi Relief Trust urgently requires volunteers for camp management & food distributions in IDP camps in Sindh. KRT has already provided 4000 families with immediate relief in Nowshera and Charsadda and is currently providing food, immediate relief and shelter in the severe flood affected areas of Sindh. KRT has experienced staff in humanitarian relief and disaster management and is working around the clock to ensure efficient and equitable relief and rehablitation to those affected. We are now looking for a team of dedicated volunteers to help with food distribution, camp management, data collection etc.
Camp Locations: Shikarpur, Moro, Sakhrand, Thul, Sukkur, Ghotki and Jhal Magsi are some of the camps in Sindh.
Duration: a minimum of 7 days. You can volunteer individually or volunteer together as a group of 4-5 people.
What do we want you to do?: Food distribution, camp management, data collection, coordination with karachi team etc
Accommodation and travel will be provided. Briefing and training will be provided to all volunteers before they leave.
For more information or to volunteer: Please email adoptacamp@karachirelief.org or moneeza.ahmed@gmail.com
Karachi Relief Trust (KRT), is a disaster management organization, comprises of a group of individuals who originally came together to provide relief to those affected by **Cyclone Yemyin** in 2007. KRT is driven by the fundamental belief that each of us can and should make a difference. In 2008, Karachi Relief mobilized its team again to help the victims of the Quetta Earthquake by building shelters for the displaced. Continuing its efforts in 2009, KRT filled the need to provide relief in the form of perishables such as milk for children, and food, to the internally displaced people of **Swabi** in Khyber Pakhtunkhwa.
---
NATIONAL VOLUNTEER MOVEMENT - MINISTRY OF YOUTH AFFAIRS
VOLUNTEERS NEEDED FOR CAMP MANAGEMENT
Responding to the call of the National Disaster Management Authority (NDMA) for urgent need of camp management staff, the National Volunteer Movement (NVM), Ministry of Youth Affairs (MoYA), plans to train 100 volunteers for camp management.
Ministry offical told "The News" that preferably volunteers from the local community will be trained in camp management skills so that they can stay in the flood affected area for a longer period.
"Young motivated volunteers from other cities can also apply for the course. For further details they can contact MoYa officials on toll free number (0800-00587) Pakistan or can contact Deputy Director Coordination Arif Malik at Telephone number 051-910-2413.
Taken from "The News" article dated August 23rd, 2010.
---
http://www.pakistan-relief.org
Pak Rupees Remittance:
Wilderness Pakistan (Welfare Trust)*
A/C No: 01-0211550-01
Standard Chartered Bank Limited, F-10 Branch, Islamabad, Pakistan
* "Pakistan Relief" is Humanitarian Aid Division of "Wilderness Pakistan ( Trust)"
Contact
Head Office:
1156, Ibn-e-sina Road, G-9/2,
Islamabad, Pakistan Postal Code: 44000
Phone:
0092 - 51 - 2856688
0092 - 321 - 5874558
Fax:
0092 - 51 - 2856688
E-mail:
info@pakistan-relief.org
---
Food & Medical Services for Pakistan Flood Victims
http://www.globalgiving.org/projects/pakistan-flood/
DONATE
http://www.globalgiving.org/dy/cart/view/gg.html?cmd=gcart&event=scAdd&synchronizerToken=533857120-116121-81-511211181140-1148156-211431113114
---
Subject: Thali Update September 9th, 2010
Our truck with hygiene kits for approx 400 families (avg 5 members each), mineral water bottles & flour is on its way to the Tarbela air base from where this stuff will be carried to Swat/Kalam. We are doing this in collaboration with Ms Salma Abbasi & her team. She was here from the UK working for flood relief work in Pakistan. You can find her profile at http://www.facebook.com/l/aaf68m80CTB37b62czXHEmGO22A;www.tremu.gov.pk/WiT/chairperson.html
Earlier Thali Update:
Greetings Thali Patrons & Friends,

Another Thali truck left for Southern Punjab this morning .. accompanied by our VPs Shifa, Farrukh, Rabia and our Office Manager Atta. This time we have sent hygiene kits including towels, soaps, shampoos, dettol, moquito repellents, dentonic powder, sanitary napkins & cotton rolls, rashan bags including flour, rice, pulses, water bottles, biscuits, sugar, tea, powder milk, candles, match boxes, chanay & nimko.

Along with these bags we have sent cartons full of towels, sanitary napkins, cotton rolls, dentonic powder & hundreds of mineral water bottles. We will upload pictures soon for you to have a look.

I would like to specially thank all our donors, volunteers & team members who supported us in making this possible. We still need a lot more & we will definitely be able to make a difference in the lives of those who need us right now!

Long Live Pakistan

Regards,
Zoone Hasan
2 trucks with 500 packages of dry rashan distributed
Dear Thali clan!
Thank you for all your contributions that made our first distribution possible!
Yesterday 2 trucks with the Thali and HRF team went to Farabi public school in Charsadda and distributed 500 bags of dry rashan and shoes & garments. The team visited the place a day prior to the distribution to grant tokens to each family, recording their NIC details. The day of the distribution, each family was handed over a bag upon submission of the granted token. Pictures will soon be uploaded for you all to witness the procedure.
We are grateful to the volunteers who accompanied our team and our again thankful for everyone's support!

This doesn't end here, we are Inshallah now planning to send the next load of relief goods to Southern Punjab. As always we shall keep you all updated!

God bless!
Regards,
RP
For more information about the NGO Thali, visit http://www.thali.org.pk/ or join the Thali group on Facebook.
Contact Info:
60-C, Satellite Town,
Rawalpindi 46300,
Pakistan.

Email:
info@thali.org.pk
This e-mail address is being protected from spambots. You need JavaScript enabled to view it.
---
http://www.sungi.org/ (Includes detailed maps, videos, photos)
Donation information: http://www.sungi.org/custom-5/Appeal_for_Donations_16Aug2010.pdf
Appeal for Donations
All donations to Sungi are exempted from income tax
Under section 2 (36) of the income tax ordinance 2001
http://www.sungi.org/income_tax_exemption_certificate.html
Account Title: Sungi Development
Foundation
1. Pak Rupee
Account No. 058502010216301
2. US$
Account No. 058512020004122
Swift Code: MUCBPKKA
3. Euro Account No. 000224331001898
MCB Star Branch, Jinnah Road Abbottabad,
Pakistan

Sungi will assist each family (average 7 persons) in kind for one
month support where they are far from markets or with PKR
25,000/- where markets are near as cash for choice based on
calculations to meet following needs:
1. Food Package – PKR 6,000/-
Item Name Description
Flour 80Kg
Mixed Food Small
Bag
Including Milk Powder,
High Nutrition Biscuits
Mixed Food Large
Bag
Including Sugar, Pulses,
Rice, Dates, Spices, Tea,
Salt
Oil 4.5 Ltr
2. Non Food Items – PKR 6,000/-
Item Name
Water Cooler
Kitchen Utensils
Soap (for washing utensils)
Match Boxes
Footwear for Children
Clothes
Jerry Cans

3. Medicines – PKR 2,000/-
Description
As per prescription of doctor

For further details please contact:

ISLAMABAD – Donation Desk
Contact Person: Ms. Saima Jamil
Finance Officer
Liaison Office
Sungi Development Foundation
No. 11, Street No. 15, G-7/2, Islamabad.
Ph: +92 51 2891184-5

ABBOTTABAD – Donation Desk
Contact Person: Rafique Abbasi
Finance Officer
Head Office
Sungi Development Foundation
House No. 1692C, Circular Road, Civil Lines
(Punj Pir), Abbottabad
Ph: +92 992 333414/334750
Fax: +92 992 331726
Web: http://www.sungi.org
---
Khwaja Ghareeb Nawaz Welfare Trust
Flood Relief Fund
As shown on ARY TV Channel:
Account Title: Khwaja Ghareeb Nawaz Welfare Trust
Account No: 010-4843-0
UBL SITE BRANCH KARACHI
BRANCH CODE: 0071
SWIFT CODE: UNILPKKAA
---
Flood Disaster Relief
http://www.zindagitrust.org/donation-flood-disaster-relief.asp
SEND CHEQUES & BANK DRAFTS in the name of "Zindagi Trust Flood Relief"
Our Addresses are:
Pakistan
House No. 94-C, Haji Abdul Razzak Janoo Street, Faran Housing Society, Karachi, Pakistan
T: 92-21- 34125614 - 6 / 111-111-439
F: 92-21- 34125617
E: info@zindagitrust.org
DEPOSITS OR DIRECT BANK TRANSFERS in any of the following accounts.
Pak Rs.

Title of Account:
Zindagi Trust Flood Relief
Bank:
Bank Al-Habib, Citi Towers Branch Plot 33-A, Block-6, P.E.C.H.S,
Shahrah-e-Faisal, Karachi.
Account Nr:
1088-0081-001020-01-9
SWIFT Code:
BAHLPKKA
Ph:
+92-21 34373150-53
Fax:
+92-21 34373154

US Dollar

Title of Account:
Zindagi Trust
Bank:
Citibank N. A., Shahrah-e-Faisal Branch, Karachi, Paksitan
Account # (US$)
9012523669
Route #:
10991207
SWIFT Code:
CITIPKKX

Pound Sterling

Title of Account:
Zindagi Trust
Bank:
Citibank N. A., Shahrah-e-Faisal Branch, Karachi, Paksitan
Account #
(UK£) 9022523675
Route #:
600199
SWIFT Code:
CITIPKKX
Zindagi Trust a Tax Approved Charity
Pakistan: Donations to Zindagi Trust are approved for tax exemption. Tax Exemption # CIT/COS.V/2007/499

USA: "Zindagi Inc." is a 501 (3) (c) tax-exempt organization (No. 20-1287010), which grants funds that benefit Zindagi Trust, its schools and other charitable educational projects. In compliance with the IRS regulations, the Board of Trustees of Zindagi Inc. maintain complete discretion over allocation of gifts/funds to Zindagi Trust.
---
http://www.oxfam.org/en/emergencies/pakistan-floods-2010#donate
Northern Pakistan has been hit by the worst floods in decades – nearly 14 million people have been affected according to the Government of Pakistan. Oxfam has helped 182,000 people so far, by providing clean water and hot food. This figure also includes our deployment of more than 30 emergency boats to assist government search and rescue efforts, evacuating 80,000 people.
Take action
Donors from around the world are being generous but the European body responsible for disaster aid (ECHO) has only committed 10 million Euros. That's just 0.71 Euros for each person affected.
Ask the European Commission to do the right thing for the people of Pakistan by committing as much as possible to the crisis now:
Send a message to the President of the European Commission, José Manuel Barroso
The situation
There is a desperate need for temporary shelter, clean drinking water and toilets to avert a public health catastrophe. People also need medical care and basic food items.
People in the flood's wake were already desperately poor and what little possessions they had have been washed away. The extent of this crisis is only slowly emerging. Rain has continued to fall in some areas, flood waters are still moving south, and the more villages that are reached the grimmer the picture becomes.
Oxfam is there
Oxfam is on the ground providing clean water, sanitation kits and hygiene supplies, planning to reach at least 600,000 people in the hardest-hit areas.
Our emergency response includes trucking water, installing tanks and building emergency toilets to help prevent the spread of water-borne diseases.
We are also planning to provide hygiene kits to help people who have lost everything in the floods, as well as cooked food and running cash-for-work programs.
Our initial rapid relief effort aims to reach people in three areas: Rajanpur in Punjab, Barkhan in Balochistan, Swat, Charsada, Peshawar in Khyber Pakhtunkhwa (KPK)
DONATE
Oxfam is hoping to raise $6 million for our immediate and our long-term response. With your assistance we can continue to help people deal with the current crisis and its aftermath. Please donate now – these Oxfam affiliates are running direct appeals for the recent Pakistan floods:
Alternatively, you can also make a donation to the general emergency fund of your nearest National Oxfam affiliate. Your money will be used to fund our emergency work worldwide, which includes responding in countries such as Pakistan.
---
UNHCR rushes aid to Balochistan as number of flood victims soars
UN agency manages to reach survivors in remote areas but supplies running out and more aid to the region desperately needed, officials say. read more
HOW YOU CAN HELP
US$40 provides 10 blankets for flood victims in Pakistan displaced by floods.
US$100 provides a refugee with a survival kit containing a blanket, a mattress, a kitchen set, a cooking stove and soap.
US$200 provides an all-weather tent to shelter a displaced family.
Harsh rains and torrential floods have affected at least 12 million people in Pakistan, including children. Urgent help is needed. Please help UNHCR immediately provide flood victims with shelter and other emergency supplies.
TO DONATE:
http://www.unhcr.org/emergency/pakistanfloods/global_landing.html
---
INTERNATIONAL RESCUE COMMITTEE
The IRC is providing aid to victims of the worst flooding in Pakistan's modern history. As many as 14 million people have been affected by the devastating monsoon rains.
How the IRC is helping Pakistan: http://www.theirc.org/special-reports/special-report-pakistan
How you can help rescue lives in Pakistan: https://www.theirc.org/donate/help-rescue-lives-pakistan
---
Flood Relief Efforts in Pakistan: http://www.savethechildren.org/newsroom/2010/pakistan-flood-zone-worsens.html
Worsening Conditions in Pakistan's Flood Zone Threaten Well-Being of Children
Save the Children Works to Reach Affected Families, Provide Critical Health and Other Assistance
WESTPORT, Conn. (August 13, 2010) — Unprecedented monsoon rains in Pakistan have triggered a massive humanitarian crisis that threatens the lives and well-being of millions of people in the floodwaters' path, particularly young children.
Save the Children, which over the last two weeks has provided assistance to more than 37,800 children and adults, is fighting difficult conditions to reach families in need and assist them through this latest crisis. Of particular concern is the health of the floods' youngest survivors.
"The massive displacement of people, potential for the spread of disease and deteriorating living conditions are increasing risks to very vulnerable infants and children," said Mohammed Qazilbash, Save the Children's spokesperson in Pakistan. "Our medics are seeing cases of pneumonia, diarrhea and malaria — major killers of children in the developing world under normal conditions. So we are working around the clock to provide critical health services and support to parents so that they can take care of their children."
Save the Children has mobile health teams working in flood zones and is supporting health clinics. The organization is distributing hygiene and "clean delivery" birth kits and conducting hygiene promotion to prevent the rise in waterborne diseases like acute watery diarrhea. In addition, Save the Children also is providing insecticide-treated mosquito nets to prevent malaria.
"The monsoon season could last another month, so conditions will become increasingly dire," said Qazilbash. "Millions of people are homeless, have lost all of their belongings and no longer have a way to earn a living or feed their children. It is no exaggeration to say that we are racing against the clock to reach people in desperate need of help."
In addition to health services, Save the Children is distributing tents, shelter materials and household goods to vulnerable families.
Save the Children has been working with children and families in Pakistan for more than 30 years. The humanitarian agency provided assistance to those affected by Tropical Storm Phet this past June, the conflict in Khyber-Pakhtunkhwa Province in 2009, the flash floods in Peshawar, Kybery Agency and Rajanpur in August and December of 2008, and the massive earthquake in 2005. Save the Children also is assisting children and families affected by severe flooding in India.
For more information on Save the Children's response in Pakistan and for ways to help, please visit our Pakistan Flood Emergency page.
from CNN's Pakistan Flood Relief Page
Save the Children is providing food and water, shelter, sanitation and other immediate needs for the families and communities affected by this disaster. They are accepting donations to their Pakistan Children in Emergency Fund online as well as by phone by calling 1-800-728-3843.
---
Ways you can help: http://www.muslimaid.org/index.php/get-involved/donate-online
Muslim Aid a UK based international relief and development agency. Working in over 70 countries across Africa, Asia and Europe, Muslim Aid is striving to help the poor overcome the suffering endured due to natural disasters and lack of life's basic necessities.
MUSLIM AID PAKISTAN: http://www.muslimaid.org.pk/
---
PAKISTAN SUSTAINABILITY NETWORK
http://sustainablepakistan.org/2010-flood-relief/
2010 Flood Relief
Instructions on Donating Online to our donation drive for Charsadda and D G Khan refugees:
Once donations are received 100% of the funds will be transfered to an account in Pakistan for relief efforts.
Donations are collected by Kurt Archer, a PSN co-founder in Canada, who will forward all money to WasteBusters Emergency Flood fund in Pakistan.
We will report afterwards on all money received and where the funds went to support
You will not get a charitable receipt, however you will receive a receipt from WasteBusters
You do not need a paypal account to send money
Thank you for your support!
Dear Supporters, just an update:
We would like to thank all those who attended our door to door donations and donated generously to help the flood refugees in Charsadda and D G Khan. We are very proud of civil society efforts to help the flood victims.
A special thanks to Punjab University, Pakistan Sustainability Network volunteers and Mrs Tahir (for the 38 tents)! We would like to also thank Afia Mansoor and Faisal Rana and all the people from all over the world who have donated.
We have prepared food baskets of 100 kgs (Flour, Ghee, Sugar, Daals, Tea, Milk, Water, Rice etc.) enough food for one family of six to sustain for a month. Plus we are providing them Tents each one costs Rs. 7000 ($90 CAD); Foods costs Rs. 5000 ($65 CAD) so a package of Rs. 12000 ($155 CAD) per family to survive for one month. You WILL receive a receipt for your donation.
We are also running a clothing drive for flood victims. The clothes will be washed, ironed, packed and delivered to TCF and UN relief camps. Please contact 03007043094 for details on how and where to donate.
We urgently need food items and tents, you can now donate money online (see details below) or drop them off at our Lahore Office: 7 Shami Road, Cantt.
If you want to volunteer to go help at our camps and our partner camps please email: nimra@sustainablepakistan.org
To donate online or from abroad: http://sustainablepakistan.org/2010-flood-relief/
To donate from Pakistan:
MCB bank LTD, Fortress Stadium Branch, Lahore.
A/C number: 1834-2
branch code: 0963
We will keep updating you via facebook and twitter.
We expect nothing but generosity from you!
Aug 7, 2010: The Pakistan Sustainability Network and Wastebusters are issuing an urgent appeal to support flood victims in Charsada and Dera Ghazi Khan districts.
The following update is from: www.citizensofpakistan.org:
We have set up two camps, one in DG Khan, other in Charsadda (NWFP) we are housing more than 2000 people each. We need food and shelter basically right now for these people. We do it directly for the affected people so they know its going to the right place. We didnt want cash initially due to transparency issues but right now time is more of essence. We have set up a private paypal account in Canada to collect international funds. 100% of funds donated will be transfered to relief efforts in Pakistan. We will report afterwards on amount raised and donated. Please note, this is an emergency fund, and you will not receive a charitable receipt. We have prepared food baskets of 100 kgs (Flour, Ghee, Sugar, Daals, Tea, Milk, Water, Rice etc.) enough food for one family of six to sustain for a month. Plus we are providing them Tents each one costs Rs. 7000 ($90 CAD); Foods costs Rs. 5000 ($65 CAD) so a package of Rs. 12000 ($155 CAD) per family to survive for one month.
To support Charsada and Dera Ghazi Khan district, Clean Pakistan in association with PSN has organized a drop point for non-perishable food items and tents to 7 Shami Road, Lahore Cantt. or Baria II complex in Karachi Email PSN @ 2010floodrelief@sustainablepakistan.org for more ways you cans support!
---
Education, Health and Development (EHD) Foundation
As described on: http://www.citizensofpakistan.org/pakistan-flood-relief/

1. A team of experienced and competent doctors provides free medical treatment and medicines for a single Free Medical Camp at PKR 20,000 (about $ 235).
2. The cost of providing one family with a basic 38 kg ration, crockery and bedding pack is PKR 5550 (about $ 65). This usually lasts at least a week, depending on family-size and members' ages.
Support EHD:
Bank Account # 01-200-3482-9,
Beneficiary Bank: Allied Bank Ltd., G-9 Markaz Branch, Al-Rehman Plaza, Islamabad.
Branch Code: 0681, S
Swift: ABPAPKKA F-3, Al-Falah Plaza, Markaz G-9, Islamabad 44000, Pakistan.
T: +92-51-2281708, F: +92-51-2281708,
Email: ehd.isb@gmail.com
---
The Volunteers/ Voice of the Civil Society
The Volunteers/ Voice of the Civil Society: VOTCS – a registered (No. DSW 3369-K) welfare organization in Pakistan, operating as a Non-Profit, Public Charity in the North America, Inc. – 501(C)(3) Organization(Tax Exempted). Sending provisions to affectees with the help of Pakistan Army. For more info call: Hadia khan @ +92-3018245999 Sadia Haroon @ +92-3218251122 Irum Farooque @ +92-3002332142. (For donations: HABIB BANK LIMITED ACCOUNT NO: 1549-79001393-03)
---
RONAQ-E-QAINAAT – Young doctors
Young doctors are in the process of arranging a series of free medical camps in the flood affected areas. First Camp is at Nowshera. Please Contact Ms. Alina Akhyar at alinaakhyar@yahoo.com, to email you the Trust's past activities, bank account details and other queries. (Account number: 00400101065364, account title: Khadija Nadeem; Askari Bank Chaklala Scheme 3 branch Rawalpindi). Khadija is the founding member, handling all donations.
---
Al-Khidmat Foundation
Donate here: http://al-khidmatfoundation.org/donate-here.php
---
Maymar Trust
To donate a ( 10 x 10) tent for a family: Rs. 12,000
A huge tent ( 14 x 14) for a few families: Rs. 5,000
A tent for a mosque ( 30 x 30) : Rs. 30,000
Gas Cylinder: Rs. 900
Generator: Rs. 80,000
Food: 8,000/-for one month
Medical Supplies: Rs.20 to 25,000/- ( for one day )
Beds and bedding: 300 per bed
Plastic Tirpal ( shade)( 4 x6) : Rs.900/-
Donate here:
Account Title: Muhammad Faisal
A/c No: 011802008000265
Meezan Bank/Gulshan-e-Maymar, Karachi.
Or
A/C Title: Tariq Mansoor
0118994011000621
Muslim Commercial Bank
Branch Code: 1553
Gulshan-e-Maymar Branch, Karachi
---
SAHARA for Life Trust
SAHARA for Life Trust is a registered, tax exempted charity organization striving for the betterment and promotion of health and education in remote areas of Pakistan. The name SAHARA is an abbreviation for "Services Aimed at Health and Awakening in Remote Areas". The Trust was founded by Abrarul Haq, a successful Pakistani musician.

Sahara for Life Trust Pakistan, Lahore
Head Office: 50 Bridge Colony, Lahore Cantonment
Tel: (00)(92)(42)36687564, Fax: (00)(92)(42)36669095
___________
Sahara Trust Account #: 011-1692-1
United Bank Limited
Branch: Narowal, Gujranwala
(Branch code No. 0144 )
Sahara for Life Trust International Offices
UK (Reg. Charity # 1088219)
Sahara for Life Trust, 211 Forest Rd, Waltham stow
London E176 HE. Tel: 020-85231115
Fax: 020-85231119
___________
USA (FED ID # 33 - 1011467)
Sahara for Life Foundation
10866 Washington Blvd, Suite # 323
Culver City, Ca, 90232, USA.
Tel: 1-323-325-6286
_____________
UK flood relief show: http://www.youtube.com/watch?v=UbqMftYBG1c
_____________
Natwest Bank UK
Saffron Walden Branch, 3 Market Place, Saffron Walden Essex
CB10, 1HS, Account # 51672480, Sort Code 60-18-10
Habibsons Bank UK
65 White Chapel Rd, London E1, 1DU, UK Account # 80659
Reference # E11082001A & Customer #35395
Habib American Bank USA
18357 Pioneer Boulevard, Artesia, CA 90701-5532
---
Omar Asghar Khan Development Foundation
Title of Account: Omar Asghar Khan Development Foundation
Account #: 0030445261000455
Name of Bank: MCB Bank (1028),
Super Market, Islamabad-Pakistan
Swift Code: MUCBPKKAMCC
Tax Exemption: 6043/ATD/2008-09
---
Pakistan Rising
http://www.pakistanrising.com.pk/
Pakistan Rising has identified basic needs for flood victims in Mardan, Charsadda, Dir and Swat. Pakistan Rising will support 500 families in district Rahimyar Khan in immediate need of food relief. Please donate in cash or kind, or contact them to send food trucks you may be in charge of.
Account details:
Account name: Pak Rising (please note the account name is Pak Rising)
Account #: 20311-714-179297
Bank: Habib Metropolitan bank Ltd.
Any Habib Metropolitan Bank branch.
---
PAKISTANI YOUTH
FLOOD CAMPAIGN AND CALL FOR VOLUNTEERS
http://www.pakistaniyouth.com/
Email: info@pakistaniyouth.com
call at: 0331-2019387
---
Pakistan Youth Renaissance
FLOOD RELIEF EFFORTS
http://pakistanfloodrelief.chipin.com/pakistan-flood-relief
PYR Official Online donation Portal
PYR Lahore Chapter Ready for 2nd Phase
Going to Lower Punjab and Sindh Areas on 20th August 2010. Donations of Phase2 are MashaAllah 3 times that of Phase1. & we are targeting Food and Shelter for 500 Families this time. Pics and Receipts of Phase 2 will be uploaded on 24th. WE WILL NOT LET ANY PAKISTANI DIE OF HUNGER. Because we are UNITED.

For donation and volunteer help contact:

Soban: 03217075707

Ali: 03008443303

Shoaib: 03324706297


PYR Lahore Chapter- Flood Relief Campaign
PYR Lahore Chapter - Flood Relief Campaign was lead by Captian Soban Akram and Ali Awais.
Total 160 Packs made. One pack contains food of One week for one family. One Pack contains following Stuff.

1)Atta 20Kg
2)Pulses 2Kg
3)Dates 1Kg
4)Ghee 2.5Kg Tin
5)Soap 2
6)Utensil
Click the link below to view the Complete Picture gallery of our First Phase:
THE FOLLOWING SOURCES ARE PROVIDED BY
CNN.COM ON
CNN'S PAKISTAN FLOOD RELIEF PAGE:
http://edition.cnn.com/2010/WORLD/asiapcf/08/05/help.pakistan/index.html#fbid=quRvLeiZRWV&wom=false
---
from CNN's Pakistan Flood Relief Page
AmeriCares emergency relief experts are working to send medical assistance and other aid to the flood-affected region in Pakistan. They are accepting online donations as well as phone donations at 1-800-486-HELP (4357)
---
from CNN's Pakistan Flood Relief Page
British Red Cross is accepting donations of goods to the Pakistan Flood Appeal. Monetary donations in pounds can also be made online or by calling 0845 054 7206 in England.
The following excerpt is from http://www.citizensofpakistan.org/pakistan-flood-relief/#toc3:
The British Red Cross has donated an initial £50,000 from its Disaster Fund, but the needs are significant and the true scale of the disaster is not yet clear. We urgently need your help to support the relief effort. Donate here
£15 could pay for six blankets for those left without shelter after the floods | Donate £15
£40 could pay for 16 mosquito nets to protect survivors from disease | Donate £40
£100 could pay for six kitchen sets for families who have lost everything in the flooding | Donate £100
---
from CNN's Pakistan Flood Relief Page
CARE is supporting the distribution of emergency supplies and providing aid to health teams and mobile clinics in the affected communities in Pakistan. You can help by making an online donation.
---
from CNN's Pakistan Flood Relief Page
Catholic Relief Services is currently organizing shipments of humanitarian aid to Balochistan, one of the affected areas. They are also sending emergency shelter kits and hygiene supplies to other flood-affected regions in Pakistan. Donations to their Emergency Relief fund are being accepted online and by phone at 1-800-736-3467.
---
from CNN's Pakistan Flood Relief Page
Concern Worldwide US is responding by sending emergency teams to the region, and they have launched their Pakistan Emergency Flood Appeal. They are working to provide about 9,000 families with kitchen sets and hygiene kits, clean water, temporary sanitation, and dry rations of food. Online donations can be made dollars, euros and pounds.
---
from CNN's Pakistan Flood Relief Page
Church World Service is distributing food packages and shelter material for flood-affected families in Balochistan, Khan and Khyber Pakhtunkhwa, as well as mobilizing a health unit to offer emergency medical assistance in Mansehra. Your donation can be made online and by phone at 1-800.297-1516.
---
from CNN's Pakistan Flood Relief Page
Direct Relief International is providing emergency medical aid to healthcare partners responding to disaster in Pakistan. Donations to their Emergency Response fund can me made online and by calling 1-800-676-1638.
---
from CNN's Pakistan Flood Relief Page
Doctor's Without Borders is supporting basic health units in the flood-affected areas of Pakistan. The organization is also helping with water distribution to health structures, as well as hygiene products, cooking sets and other supplies. They are planning to send additional personnel and mobilizing resources to assist relief efforts. Contributions can be made online and by phone at 1-888-392-0392
---
from CNN's Pakistan Flood Relief Page
Islamic Relief USA is providing food and water for 700 families In Nowshera, distributing emergency supplies and working with the United Nations World Food Program to distribute food to 2,000 families in Bakhtiarabad. Islamic Relief has launched a campaign to aid the victims of the floods, which you can support by making an online donation.
---
from CNN's Pakistan Flood Relief Page
Mercy Corps is accepting donations to provide flood victims in the hard-hit Swat Valley with water, food and tools to clean up and rebuild. You can donate online.
---
from CNN's Pakistan Flood Relief Page
Oxfam Great Britain is looking to provide the needed temporary shelter, clean drinking water and toilets to help avert a public health catastrophe. They are accepting online donations in pounds, euros and dollars, and can be reached by telephone internationally at +44 (0) 1865 47 2602. In England, you can text 'DONATE' to 70066 to make a donation of 5 pounds to their Pakistan Floods Appeal.
---
from CNN's Pakistan Flood Relief Page
ShelterBox distributed hundreds of ShelterBoxes to families rescued from the flood in the Punjab and Khyber Pukhtunkhwa (KPK) regions. Find out how to become part of the ShelterBox Team or help the efforts by making an online donation in the UK and the US.
---
from CNN's Pakistan Flood Relief Page
SOS Children's Villages supports the children of Pakistan through different programs across the country and offers care of lone children following the disaster, as they did after the Kashmir Earthquake. You can make a direct donation in dollars or pounds and you can sponsor a child in Pakistan here.
---
from CNN's Pakistan Flood Relief Page
World Vision is working to distribute food and clean water to the affected communities in Pakistan. They have created the World Vision's Flood Relief Fund which you can support it by making an online donation.
---
Operation Blessing International
from CNN's Pakistan Flood Relief Page
Operation Blessing International is sending emergency medical relief teams to Peshawar, Pakistan. Working with their disaster relief partner charity Humedica, OBI will offer medical treatment and distribute food, clean drinking water and emergency building supplies to thousands in need from this flood. Support for OBI's disaster relief efforts can be made online or by calling 1-800-730-2537.
---
More sources are being added.
Pictures
MSN Picture Slideshow: Flood Damage in Pakistan
Articles:
Angelina Jolie's Pakistan Flood Relief Video Appeal - September 7, 2010
More deaths feared in Pakistan as flood waters recede - CNN - August 28th, 2010
Pakistan floods: Damage and challenges - BBC - August 26th, 2010
UN SAYS MILLIONS WITHOUT AID IN PAKISTAN FLOODS - August 17, 2010
---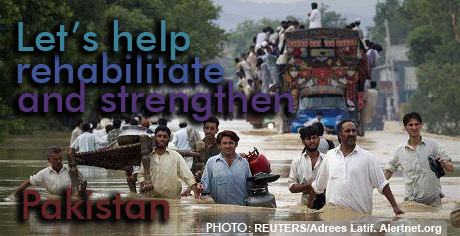 ---
S.Said. All Rights Reserved. © September 2010.