Kaarvan Foundation
Kaarvan is an organization that promotes social equity and the economic empowerment of women, from low income communities across Pakistan. Established in 2004, the non-profit organization has enabled over 6000 women artisans to enhance their skills and develop crafts, to earn a livelihood. It aims to strengthen the skills and business capacities of women both in rural and urban communities. Kaarvan's arts and crafts products made by women are available directly in Kaarvan stores in Lahore, Karachi and Islamabad. Kaarvan also creates opportunities for artisans to sell their products through wholesale markets and to other buyers.

Thatta Kedona
Thatta Kedona is a project run by the NGO known as Anjuman-e-Falah-e-Aama, whereby rural women create traditional dolls that are sold as Pakistani handicrafts all around the world. These dolls are an income generating measure for the rural population of Thatta village as well as a means of preserving the heritage and traditional culture of the area. Thatta Kedona is part of a much larger concept in which all the people of the village are involved in different roles.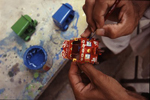 Shahina Aftab Foundation
Shahina Aftab Foundation (SAF) is an NGO whose primary objective is providing women who are set back in life by the impact of natural disasters/conflicts/social exclusion/ hardship & distress, with tools & skilled to restart their lives. This is done through skill based training, empowerment & sustainable income generating project. The aim is to empower women to be "agents of change" who provide for themselves, their children and play an active role in community development. SAF also advocates on social issues such as the environment, corporate social responsibility and calamity management.
http://www.facebook.com/pages/Shahina-Aftab-Foundation/139072129454772

Helping Hands Foundation
Helping Hands Foundation is a social welfare organization with its hub in Multan. Its main goals are three-fold and include continuous growth and diversification in the areas of Health, Education and Community Empowerment. HHF has a wide range of programs to offer clinical services, free medicines, breastfeeding education, health monitoring in schools, child protection, support for healthy lungs in children, community health, and interest free loans (microfinance).