Sarim Burney Welfare Trust
Sarim Burney Welfare Trust International is an organization that works to help the oppressed people of society. With its head office located in Karachi, the trust provides shelter for neglected or abused women and children and the elderly. It also provides legal aid to innocent or economically deprived prisoners. It further helps to locate missing children and helps to organize weddings for orphan or poor girls. The trust engages in many such human rights related charitable activities.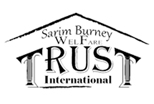 Wermany
Wermany is an organization that is coordinating several charitable efforts that are taking place in Pakistan. Akseer is an organization working under Wermany that is a platform for the common man to support orphans, the hungry & needy, and the politically under-represented citizens of Pakistan. Kyma Care is another organization under the Wermany wing that currently has a free day-care dispensary in Gujranwala treating approximately 5000 patients a month. Greats.co is also a part of Wermany and focuses on orphan care and education. Greats.co is currently caring for approximately 39 orphans and 19 other students.